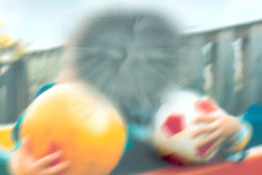 This is the beginning of AMD
These prominent researchers have proven that you can win the fight against Macular Degeneration.
More than 300,000 Americans could avoid losing their sight to MD if they took daily supplements of antioxidant nutrients and zinc.
This conclusion was reached by scientists at Johns Hopkins' Wilmer Eye Institute after analyzing data on more than 4,500 adults. The study found that people who already had some MD could lower their risk of the more advanced form of this condition when they took vitamin C, natural vitamin E and beta carotene along with zinc.
http://www.experts-at.com/Better-Vision/For-You.htm
" Without treatment to reduce their risk, we estimate that 1.3 million adults would develop the advanced stage of MD," says Dr. Neil M. Bressler, professor of ophthalmology at Johns Hopkins and author of the current study, published in Archives of Ophthalmology.
EYEMAX-plus contains 33 different vitamins, minerals and anti-oxidants that work together to make your eyes as healthy as they can be by providing them with the nutrients necessary for optimal functioning..